Confronting the Complexity of Holocaust Scholarship
Wednesday, June 8 @ 3:00 pm

-

4:30 pm

EDT

Free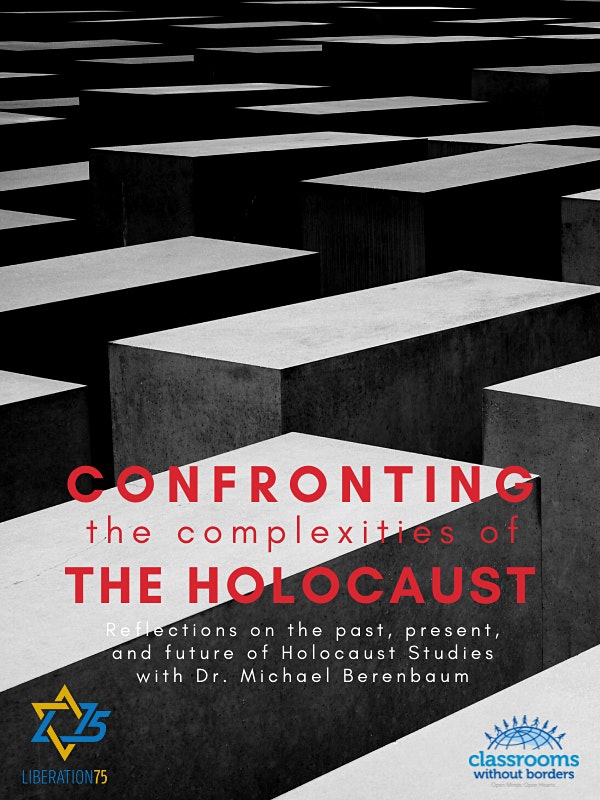 Classrooms Without Borders, in partnership with Liberation 75, is excited to offer the opportunity engage in our new series: Confronting the Complexity of Holocaust Scholarship: Reflections on the Past, Present, and Future of Holocaust Studies
The rise of anti-Semitism across the globe alongside the current data that points to a serious void in understanding about the Holocaust in the 21st century shines a light on a critical need to continue the task of Holocaust Scholars to honor the memory of the Shoah.
In each of our 9 part series we will meet Top Scholars in the field and focus on their research and scholarship.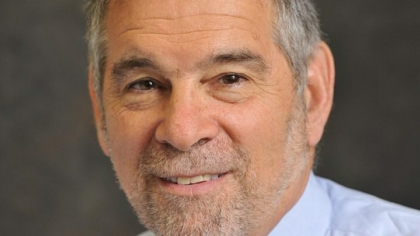 Dr. Michael Berenbaum is a writer, lecturer, and teacher consulting in the conceptual development of museums and historical films. He is director of the Sigi Ziering Institute: Exploring the Ethical and Religious Implications of the Holocaust at the American Jewish University, where he is also a Professor of Jewish Studies.
He was the Executive Editor of the Second Edition of the Encyclopedia Judaica that reworked, transformed, improved, broadened and deepened, the now classic 1972 work and consists of 22 volumes, sixteen million words with 25,000 individual contributions to Jewish knowledge. For three years, he was President and Chief Executive Officer of the Survivors of the Shoah Visual History Foundation. He was the Director of the United States Holocaust Research Institute at the U.S. Holocaust Memorial Museum and the Hymen Goldman Adjunct Professor of Theology at Georgetown University in Washington, D.C. From 1988–93 he served as Project Director of the United States Holocaust Memorial Museum, overseeing its creation. He also served as Deputy Director of the President's Commission on the Holocaust, where he authored its Report to the President.
Berenbaum is the author and editor of twenty books, scores of scholarly articles, and hundreds of journalistic pieces. His most recent books include: Not Your Father's Antisemitism, A Promise to Remember: The Holocaust in the Words and Voices of Its Survivors and After the Passion Has Passed: American Religious Consequences, a collection of essays on Jews, Judaism and Christianity, Religious Tolerance and Pluralism occasioned by the controversy that swirled around Mel Gibson's film, The Passion. He was the conceptual developer on the Illinois Holocaust Museum and Educational Center and played a similar function as conceptual developer and chief curator of the Belzec Memorial at the site of the Death Camp. He is currently at work on the Memorial Museum to Macedonian Jewry in Skopje, the Dallas Holocaust and Human Rights Museum, and the Holocaust and Humanity Center in Cincinnati, Ohio.
Professor Jonathan Friedman
Jonathan Friedman is currently Professor of History and the Director of Holocaust and Genocide Studies at West Chester University in West Chester, Pennsylvania. He has been at West Chester since 2002. Before that, he worked as a historian at both the United States Holocaust Memorial Museum in Washington, D.C. and the Survivors of the Shoah Visual History Foundation in Los Angeles. He has edited five books and authored five as well, including, most recently, Haunted Laughter: Representations of Adolf Hitler, The Third Reich, and The Holocaust in Comedic Film and Television (Rowman and Littlefield/Lexington Books, 2022).
Previous Sessions in this Series:
October 13, 2021 3PM ET: Women and the Holocaust with Dr. Carol Rittner RSM Distinguished Professor of Holocaust & Genocide Studies Emerita
November 10, 2021 at 3pm ET: Six Million!? with Documentary Film Maker: David Fisher
December 8, 2021 at 3pm ET: Auschwitz: Not Long Ago, Not Far Away.
January 12, 2022 at 3pm ET: Wendy Lower: Using Photographs as Evidence
February 9, 2022 at 3pm ET: Antisemitism and Book Banning in 2022?
March 9, 2022 at 3pm ET: Professor Larry Langer; the foremost scholar of the Holocaust in the field of literature and testimony
April 13, 2022 at 3pm ET: Jonathan Petropoulos, Ph.D., the world's leading scholar on Nazi stolen art 
May 11, 2022 at 3pm ET: Mark Weizmann, speaking on Holocaust denial, minimization, trivialization, and distortion
Thank You to Our Partner