DISCOVERING THE "JEWISH JESUS"
Tuesday, February 21 @ 4:00 pm

-

5:30 pm

EST

Free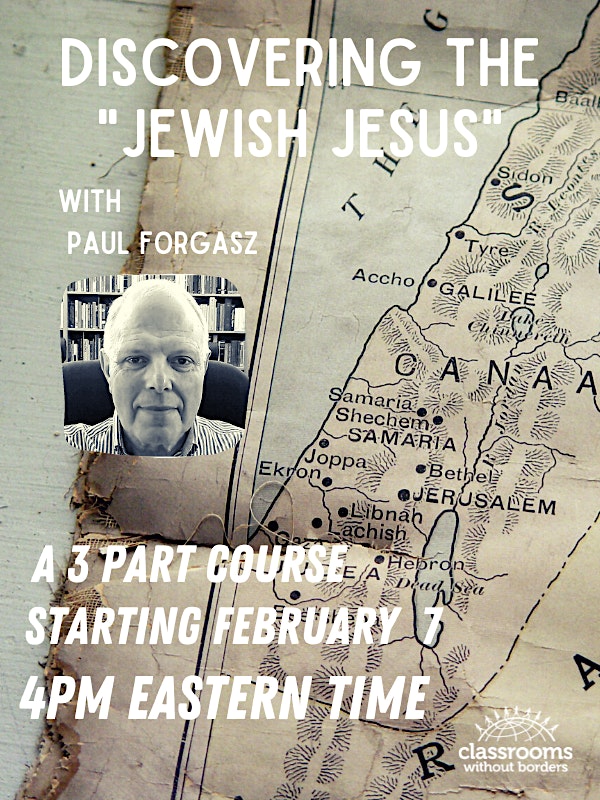 In this three-session course, we will seek to uncover the figure of "Jesus the Jew" from the pages of the New Testament.
Presumably, this should not be difficult. After all, the New Testament contains a great deal of information about the life and teachings of Jesus.
However, according to most academic scholars of the New Testament, there is a chronological gap which spans some forty to seventy years between the death of Jesus and the writing of the Four Gospels, the primary record of his life and teachings. This can be an obstacle in our quest to uncover, as Amy-Jill Levine, a prominent Jewish scholar of the New Testament puts it, "the man from Nazareth as he was understood in his own context and as he understood himself."
We will begin by recreating the Jewish milieu of Jesus' world – in other words, the period of late Second Temple Judaism. Against this backdrop, we will draw on the Gospel material to examine the nature of Jesus' relationship to Judaism.
In the second session, we will explore the vexed question of the Gospel writers' portrayal of Jesus' relationship to the Jews of his day and consider whether, as some would argue, the New Testament is an anti-Jewish document.
The final session will take place a month or so before the advent of Passover and Easter. Accordingly, we will closely examine whether there is any substance to the commonly held view that Jesus' Last Supper was a Passover meal
Paul Forgasz
For more than a decade, Paul Forgasz was principal of the secondary (grades 7-12) campus of Mt Scopus College, a large K-12 Jewish day school in Melbourne, Australia. He also lectured in Bible and Jewish history at Monash University's Australian Centre for Jewish Civilisation and taught about Jewish education, as well as school leadership, in the university's Faculty of Education. Since 2010, Paul has also curated and led Jewish study tours to various European destinations under the auspices of the Jewish Museum of Australia. For most of his professional life, Paul has also been actively involved in Jewish-Christian dialogue and he also works closely with teachers in the Catholic education sector.
1st Session February 7th 2023
2nd Session February 21 2023
3rd Session March 7 2023
This is a 3 session course: You only need to register ONCE and will be sent the ZOOM link before each session.
We are offering PA Educators 5 Professional Development hours for attending the entirety of this course.