Barbara G. Arfa Annual Professional Development Conference on Holocaust Education "From Documentation to Social Media: Empowering Students to Analyze (Mis)Information"
Sunday, March 19 @ 9:00 am

-

2:00 pm

EDT
You will be redirected to an external site to register
Register
BARBARA GUTFREUND ARFA PROFESSIONAL DEVELOPMENT CONFERENCE ON HOLOCAUST EDUCATION 2023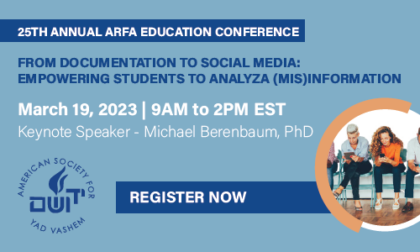 We face many challenges in Holocaust education: raising awareness of its lessons, honoring, and memorializing the victims, sustaining the relevancy of this event, and addressing the challenges of those who maintain it never happened. As educators, we are also responsible to teach our students critical thinking. They must develop information and media literacy and be equipped to identify and expose Holocaust denial and distortion of all kinds. Holocaust denial has become a significant issue. As a further challenge, our students must learn to expose it without restricting freedom of speech.
Join us for this opportunity to hear remarks given by Dr. Michael Berenbaum on the urgency to give these challenges immediate attention and address these issues through education represented in museums, memorials, cinema, and historical documentation. This program will empower educators to safeguard students who might be exposed to manipulation and indoctrination through social media platforms. This program includes a panel presentation, Q and A, and professional development workshops led by experts in the field.
BOTH IN PERSON AND VIA ZOOM
Our annual Barbara Gutfreund Arfa Professional Development Conference on Holocaust Education provides educators with innovative resources and techniques to teach students about the Holocaust and sustain the lessons of this event for present and future generations.
MICHAEL BERENBAUM, PHD
Keynote Speaker
Michael Berenbaum, Ph.D: Michael Berenbaum is the Director of the Sigi Ziering Institute: Exploring the Ethical and Religious Implications of the Holocaust and a Distinguished Professor of Jewish Studies at the American Jewish University. He is a writer, lecturer, and teacher. He consults internationally on the conceptual development of museums and the development of historical films about the Holocaust. In the past, he has served as a distinguished visiting professor at universities across the nation and beyond.
He was the Executive Editor of the Second Edition of the Encyclopaedia Judaica that reworked, transformed, improved, broadened, and deepened, the now classic 1972 work and consists of 22 volumes, sixteen million words with 25,000 individual contributions to Jewish knowledge. He was also a contributing editor to the Encyclopedia of Genocide.
Dr. Berenbaum's professional distinction and recognition in establishing, sustaining, and developing major Holocaust institutions spans the globe. He also served as historical consultant for numerous documentaries and films about the Holocaust and is the author and editor of twenty-two books, scores of scholarly articles, and hundreds of journal articles. He is also the recipient of numerous awards and is recognized as a pillar and pioneer in multiple areas of Holocaust research, documentation, education, and memory.
Felice Cohen, the grandchild of two Holocaust survivors, is the author of the award-winning book "What Papa Told Me," a memoir about her grandfather's life before, during, and after the war. The book has been endorsed by Elie Wiesel and Yad Vashem, translated into Polish, won three honorable mention book awards, and has sold 35,000 copies around the world. Aside from having spoken to thousands about her grandfather since 2010, she is featured in two documentaries focusing on the grandchildren of survivors. Felice's book has given her the opportunity to speak to nearly 7,000 students to date and her speaking engagements include libraries, bookstores, and book clubs nationally. Felice also facilitates workshops and seminars to train other grandchildren of Holocaust survivors to develop their stories about their own grandparents to share in classrooms around NYC since 2012.
STEVEN FISHER
Workshop Presenter
Steven Fisher is the playwright of The Last Boy…A New Play with Music, which made its debut Off-Broadway in July of 2021. It tells the story of the 100 boys in Terezin Concentration Camp who fought the Nazis with poetry, and the one boy who saved them. It won 4 Broadway World Awards for Best New Play, Best Production, Best Director, and Best Performance. In April of 2022, the play was seen by a sold-out crowd on Broadway at a Yom HaShoah one-night-only benefit performance. A veteran educator, Steve is honored to be in several schools across New York City as a Holocaust educator. For 25 years, he was a choral director, traveling the world and making music with young people. His ensemble was the first in history to perform on all seven continents – including Antarctica.
Karen Kruger is a seasoned educator with an MS degree in Education from Bank Street College of Education. She is the Producer and writer of Letters From Brno – a documentary that describes a powerful personal story of parental love and unspeakable tragedy. The film uses personal interviews along with archival footage, photographs, documents, and letters from her grandparents during the years 1939-1941. Karen is the daughter of Holocaust survivor, Erika Stefanie Turkl Neumann. Karen serves as her family's historian. It has taken her more than 45 years to piece together this family history and the result has been the documentary film, Letters From Brno.
The Conference's impact is effective and dramatic: over the years,  the Conference, through its thousands of participants, has touched more than 100,000 students.
The Conference, which was organized by Marlene Warshawski Yahalom, PhD, Director of Education of the American Society for Yad Vashem,  represents a continued collaborative effort among the American Society for Yad Vashem, the Association of Teachers of Social Studies of the United Federation of Teachers, the Educators' Chapter of the UFT Jewish Heritage Committee, and Manhattanville College School of Education.
For the Conference and its other educational works, the American Society for Yad Vashem received the 2015 President's Award for its contributions to social studies education nationally. The award commends the American Society for Yad Vashem for implementing best educational practices in using documents, inquiry, critical thinking and action for studying the Holocaust. The Conference is one of many educational programs developed by the American Society for Yad Vashem.
The Conference is named in memory of Barbara Gutfreund Arfa, z'l, a longstanding supporter of the American Society for Yad Vashem and is sponsored by the Barbara Gutfreund Arfa Endowment Fund for Holocaust Education. This fund was created by Harvey Arfa and Caroline and Morris Massel as a tribute to Barbara Arfa's commitment to Holocaust education.