The Hippocratic Oath at the Umschlagplatz: The Jewish Doctors of the Warsaw Ghetto
Sunday, September 18, 2022 @ 2:00 pm

-

3:30 pm

EDT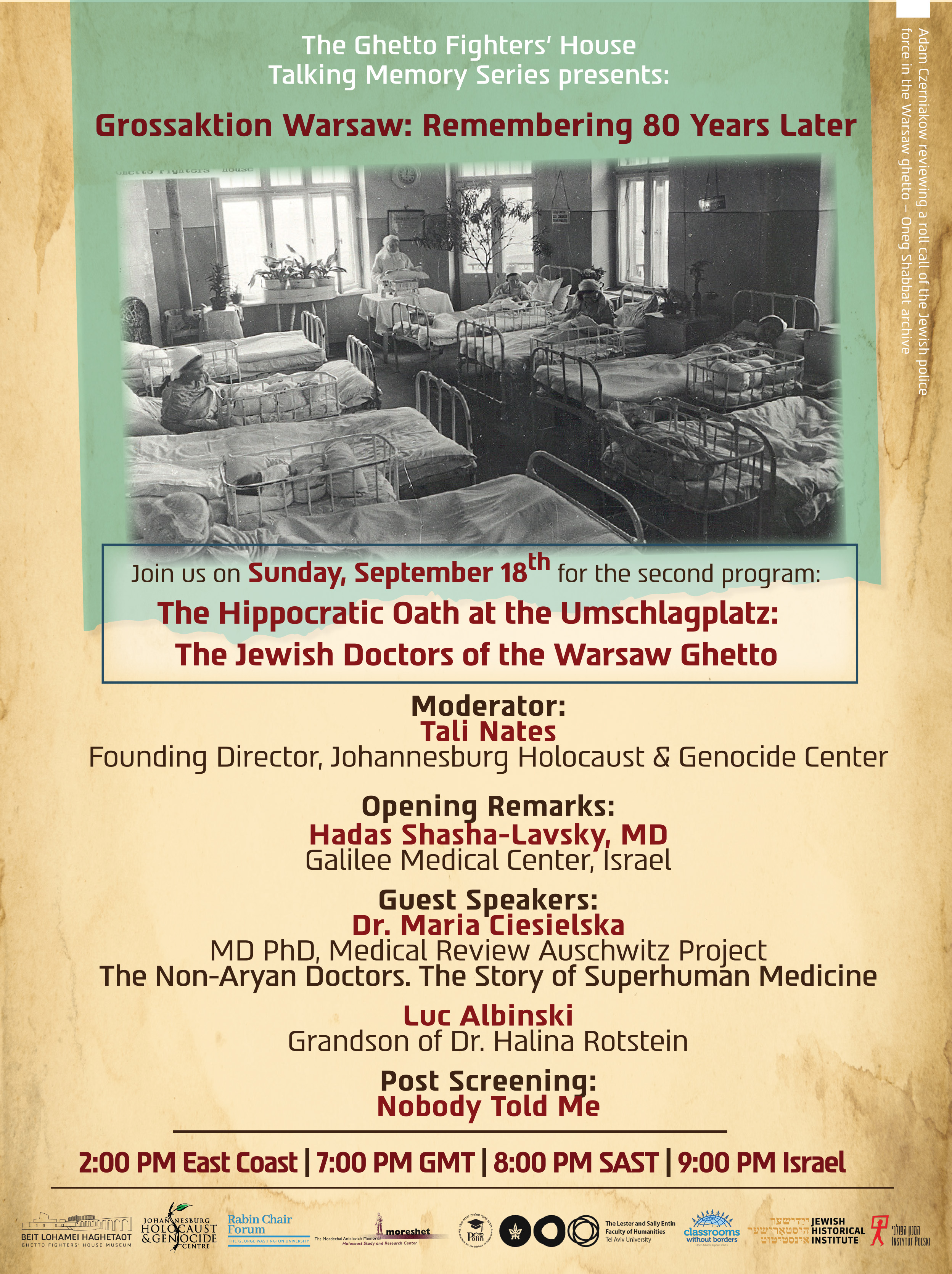 You will be redirected to an external site to register
Register
The program will be moderated by Tali Nates, Founding Director of the Johannesburg Holocaust & Genocide Center.
For this program, there will be a limited pre-screening of the documentary film No One Told Me , which was directed by Sean O'Sullivan. The movie is based on the story of Luc Albinski's mother, Wanda Albińska and his brave grandmother, Dr Halina Rotstein, who was murdered in Treblinka in 1942, after deportation from the Warsaw ghetto
Guest Speakers:
Dr. Maria Ciesielska MD PhD, Medical Review Auschwitz Project
Dr. Maria Ciesielska will present her findings from the most detailed study ever undertaken into the fate of more than 800 Jewish doctors who devoted themselves, in many cases until the day they died, to the care of the sick and the dying in the Warsaw Ghetto.
Luc Albins­ki Grandson of Dr Halina Rotstein
Luc Albins­ki is a second generation Holocaust survivor whose mother escaped the Warsaw Ghetto in 1942 and was hid¬den in an orphanage out-ide Warsaw for the remainder of the war. He will discuss his personal story and how his journey led to the making of the film "Nobody Told Me " about his mother, Wanda Albińska, and his grandmother, Dr. Rotstein. a dedicated doctor in the Warsaw Ghetto, who decided to accompany her patients to the Treblinka death camp.
For this program, all registrants will receive a link to see the film Nobody Told Us in a separate e-mail on Thursday, September 15th that will be open for screening until September 18th.
This program is in partnership with Classrooms Without Borders, Johannesburg Holocaust & Genocide Center, the Rabin Chair Forum at George Washington University, Moreshet Holocaust & Research Center, the Institute for the History of Polish Jewry at the University of Tel Aviv, the Polish Institute in Tel Aviv and the Jewish Historical Institute in Warsaw.