I snapped a photo of an exhibit that shows Simon Wiesenthal in his tweed jacket, his thick framed glasses on his desk table in front of him. The exhibit on the ground floor of the Wiesenthal Institute displays Mr. Wiesenthal surrounded by loose papers and files stacked on top of each other. He seems jovial in this picture, but I know he's been described as tough to deal with, rough around the edges, and maybe singularly focused; a personality that I am familiar with.
People often glamorize Nazi hunters the way they do Hollywood spies, like James Bond. Personally, I got through two episodes of Amazon's The Hunters before I gave up on it. I suppose if I had taken it for what it was- a violent fantasy- maybe I would have continued watching. But Simon Wiesenthal wasn't a spy- he was a researcher and a "media professional," as described by the exhibit. He was brash, an outspoken seeker of justice, and sometimes pushed survivors past their comfort zones to tell their stories or to testify against war criminals. I did not know that shortly after his liberation at Mauthausen, he turned over a hundred names of Nazi war criminals to the U.S. Army. He was clearly a leader and an organizer- often risking his own personal safety. The exhibit wrote that he kept "perpetrators in a state of disquiet and put pressure on authorities" by using his voice so loudly. He also lobbied for Austria's first memorial to the Jewish victims of the Holocaust, dedicated in 2000, just five years before his death.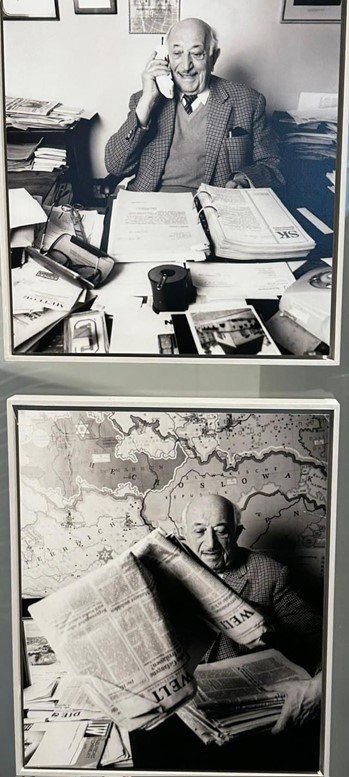 Sometimes your heroes turn out to be just as impressive as you'd hoped they would be. My hero wore a trench coat and carried a nondescript black leather briefcase on his way to the office. He made many phone calls and rubbed people the wrong way. He also broke every stereotype of a timid, quiet victim; He leaned into the hard work of putting his life back together, like so many Holocaust survivors I have known. His legacy is one of justice and education. His last act was to create the Wiesenthal Institute, where his files could be saved, digitized, and shared with the world.