America and The Holocaust: A Series of Colloquies
Wednesday, March 15 @ 4:00 pm

-

5:30 pm

EDT

Free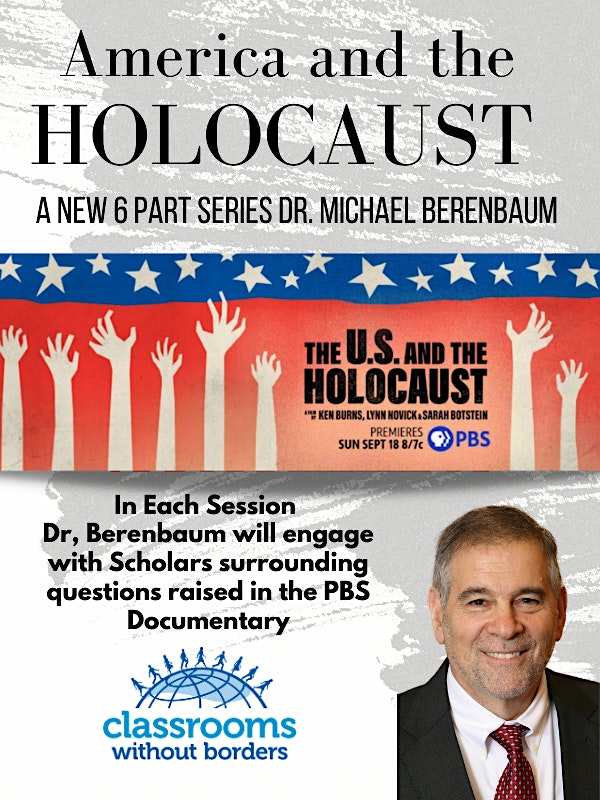 Dr. Michael Berenbaum joins CWB for a groundbreaking look into the controversy surrounding America and the Holocaust.
Classrooms Without Borders is excited to offer the opportunity share our new series: America and The Holocaust: A Series of Colloquies.
The new PBS Documentary U.S. and the Holocaust has sparked debate over America's response to one of the greatest humanitarian crises of the 20th century.
In each of our 6 part series Dr. Michael Berenbaum will explore this complicated debate.
Each session will feature an scholar whose work will shed new light on the topic and challenge us to reframe our understanding of the complex portrait of national inaction.
March 15th 2023
Refuge Must Be Given,
Eleanor Roosevelt and the Holocaust
Featuring: John Sears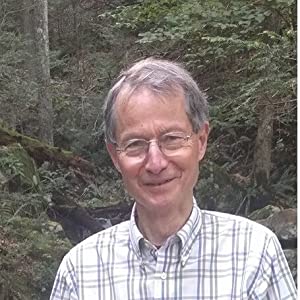 John Sears's special interests include landscape history as well as the lives and times of Franklin and Eleanor Roosevelt.
Sears served as executive director of the Franklin and Eleanor Roosevelt Institute from 1986 until 1999 and as associate editor of The Eleanor Roosevelt Papers from 2000–2007. The Eleanor Roosevelt Papers: Vol. I appeared in 2007. Before joining the Roosevelt Institute, he taught at Tufts, Boston University, and Vassar.
Sears divides his time between Northampton, MA and Hawley, a hilltown in Western Massachusetts where his paternal ancestors settled in the late 1700s. He grows trees and produces maple syrup on the land he owns. As a board member of the Sons & Daughters of Hawley, the town's historical society, he helped create Hawley's Old Town Common historic site. Sears served on the Hawley selectboard from 2013 until 2017. He currently serves on the board of directors of the Disability History Museum.
BOOK SUMMARY:
John F. Sears, Refuge Must Be Given: Eleanor Roosevelt, the Jewish Plight and the Founding of Israel (West Lafayette, IN: Purdue University Press, 2022) pp. 327.
Throughout Ken Burns, Lynn Novick and Sarah Botstein six hour documentary America and the Holocaust one name kept being mentioned time and again, Eleanor Roosevelt who in her column My Day, public statements, public activities and private exchanges was a fierce advocate of admitting Jewish refugees to the United States in the years when their admission was the difference between life and death. John Sears who has directed the Franklin and Eleanor Roosevelt Institute in the 1980s and 90s and edited Eleanor Roosevelt's papers, which were published in 2007 has written an important book detailing her work on behalf of Jewish refugees during her years as First Lady and then, perhaps more importantly and more effectively in her public career after the death of her husband on April 12, 1945, when no longer constrained by the limitations of her role and her marriage she could speak her mind, lend her name and energies to the post-war refugee crisis. Eleanor Roosevelt then became a fierce advocate for the creation of the Jewish State and was an integral part of the efforts 75 years ago this week to pass the November 19, 1947 United Nations Resolution supporting the establishment of a separate Jewish and Arab State in Mandate Palestine.
It wasn't supposed to happen quite that way. Judging from her childhood upbringing and the antisemitism that characterized elite, monied WASP society, Eleanor Roosevelt was a young antisemite. One can go through her early writings, family history and see a hatred of Jews shared by her social class, freely expressed, seldom condemned, widely assumed. Ironically, Franklin Delano Roosevelt's family was far more accepted of Jews who were business colleagues of his father as well as neighbors in Hyde Park. Yet by the time that FDR became Governor – Jews were an essential part of his coalition – and well before he became President Eleanor's views had changed and as her social circle widened  and her experience broadened, she enjoyed enduring and close friendships with Jews, most especially Jewish women,'
Unlike her husband who say things in political terms, Eleanor Roosevelt saw things in deeply personal terms, perhaps a reflection of their genders, perhaps also a reflection of her innate shyness. FDR was outgoing and gregarious. He talked more than he listened. ER visited many places he could not go because of his physical limitations , she not only saw more but listened more and reflected upon what she heard.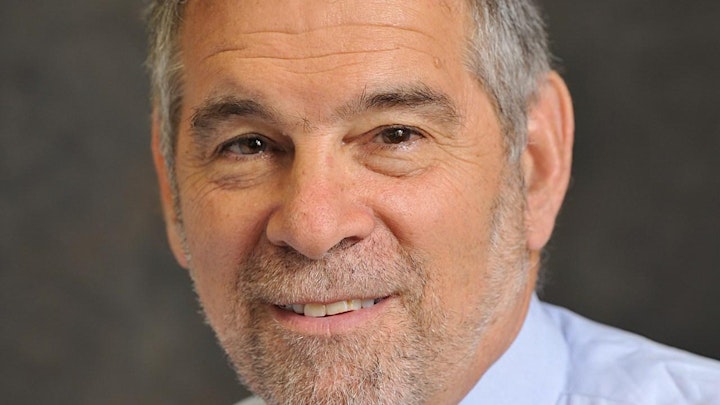 Dr. Michael Berenbaum is a writer, lecturer, and teacher consulting in the conceptual development of museums and historical films. He is director of the Sigi Ziering Institute: Exploring the Ethical and Religious Implications of the Holocaust at the American Jewish University, where he is also a Professor of Jewish Studies.
He was the Executive Editor of the Second Edition of the Encyclopedia Judaica that reworked, transformed, improved, broadened and deepened, the now classic 1972 work and consists of 22 volumes, sixteen million words with 25,000 individual contributions to Jewish knowledge. For three years, he was President and Chief Executive Officer of the Survivors of the Shoah Visual History Foundation. He was the Director of the United States Holocaust Research Institute at the U.S. Holocaust Memorial Museum and the Hymen Goldman Adjunct Professor of Theology at Georgetown University in Washington, D.C. From 1988–93 he served as Project Director of the United States Holocaust Memorial Museum, overseeing its creation. He also served as Deputy Director of the President's Commission on the Holocaust, where he authored its Report to the President.
Berenbaum is the author and editor of twenty books, scores of scholarly articles, and hundreds of journalistic pieces. His most recent books include: Not Your Father's Antisemitism, A Promise to Remember: The Holocaust in the Words and Voices of Its Survivors and After the Passion Has Passed: American Religious Consequences, a collection of essays on Jews, Judaism and Christianity, Religious Tolerance and Pluralism occasioned by the controversy that swirled around Mel Gibson's film, The Passion. He was the conceptual developer on the Illinois Holocaust Museum and Educational Center and played a similar function as conceptual developer and chief curator of the Belzec Memorial at the site of the Death Camp. He is currently at work on the Memorial Museum to Macedonian Jewry in Skopje, the Dallas Holocaust and Human Rights Museum, and the Holocaust and Humanity Center in Cincinnati, Ohio.
Future Sessions in this Series:
April, May and June Guests COMING SOON
Past Sessions:
January 15th 2023: A conversation with award winning filmmaker Pierre Savage on Varian Fry: The First American honored as a Righteous Among the Nations of the Earth by Yad Vashem for the rescue of a Cultural Elite in Vichy France 1940-1941.

February 15th 2023 featuring's Session:

A Discussion

Surrounding "Ben Hecht:The Legendary Writer Who Mobilized Hollywood on Behalf of the European Jews"  Featuring: Rick Richman
Thank you to our Partners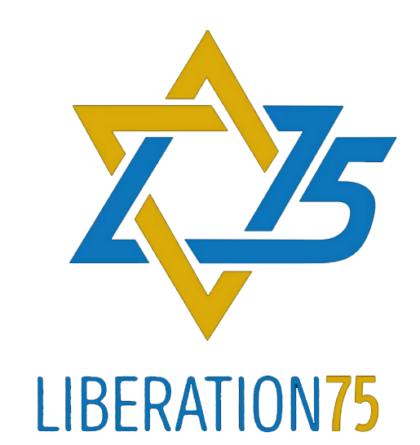 Founded in 1981 as a series of conferences on the Holocaust and its contemporary meaning, the Holocaust Memorial Resource and Education Center of Florida opened its current museum in 1986, founded by Holocaust Survivor and local philanthropist, Tess Wise. Located in Maitland, just outside Orlando, the Holocaust Center attracts visitors from around the world. Its mission is to use the history and lessons of the Holocaust to build a just and caring community free of antisemitism and all forms of prejudice and bigotry. The Holocaust Memorial Resource and Education Center will transform into the Holocaust Museum of Hope & Humanity, a lakefront museum in Downtown Orlando and the first-ever built from the ground up in partnership with the USC Shoah Foundation. To learn more about the Holocaust Center, visit www.holocaustedu.org.